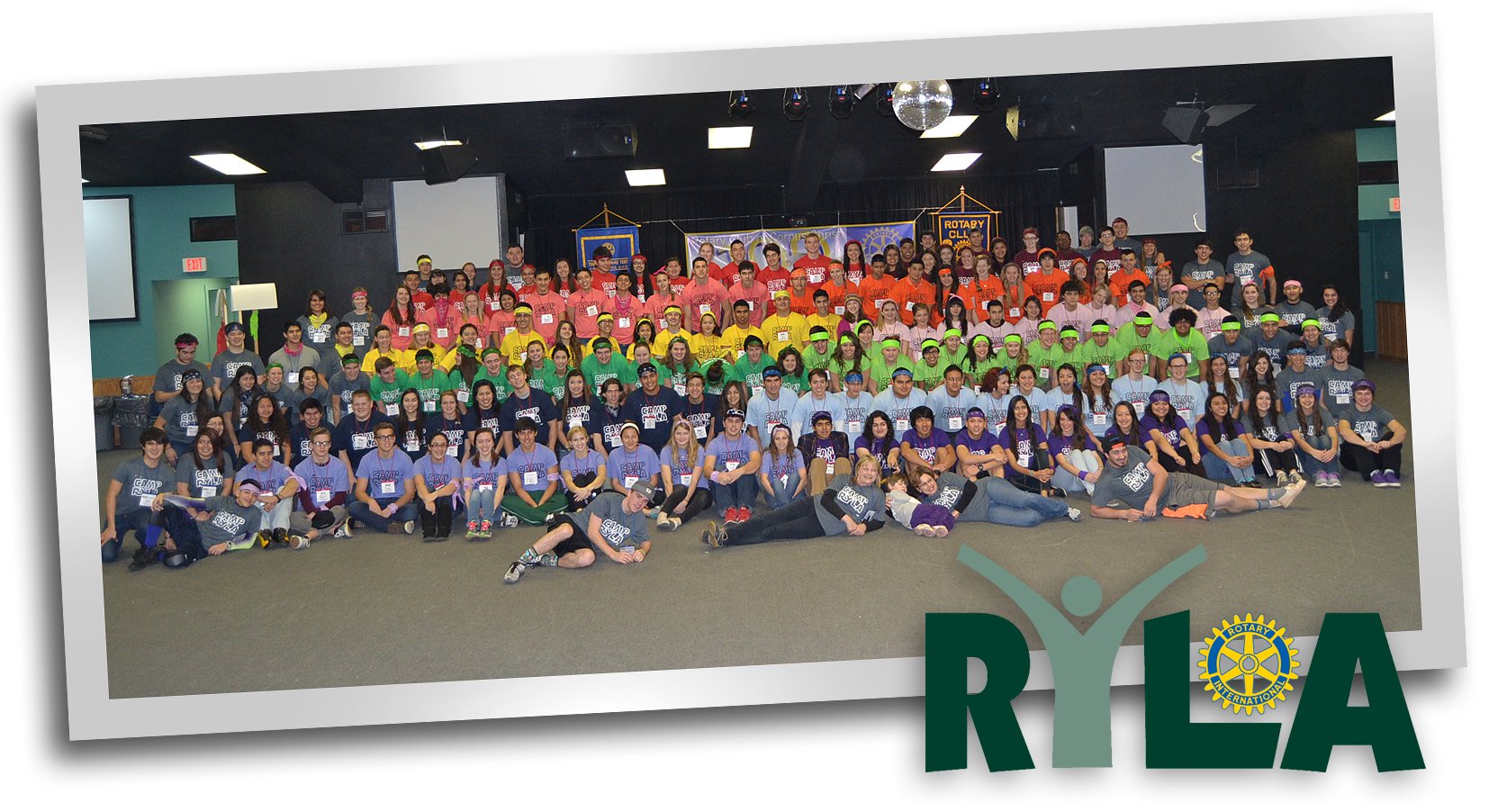 Rotary Youth Leadership Awards (RYLA) is Rotary's leadership training program for youth. Program activities focus on development of communication, critical thinking and problem solving, and team decision-making skills all through experiential learning. RYLA also highlights and rewards demonstration of character traits that contribute to positive, effective leadership.
RYLA emphasizes leadership, citizenship, and personal growth, and aims to
Demonstrate Rotary's respect and concern for youth
Provide an effective training experience for selected youth and potential leaders
Encourage continued and strong leadership of youth by youth
Recognize publicly young people who are rendering service to their communities
More details may be found on our Leadership Program Overview.
RYLA Camp 2017 is February 3-5, 2017 at Camp Zephyr on Lake Corpus Christi.
The Rotary Club of Corpus Christi organizes and hosts the RYLA program for the District 5930 Rotary Clubs. RYLA Camp has multiple levels of leadership training.  First year attendees are "Campers".  This level is open to high school sophomores and juniors.  The Rotary Clubs from throughout the South Texas area award full scholarships to selected students sponsored from their area high schools. See your school counselor or contact your local Rotary Club for sponsorship possibilities.  These clubs pay the $300 tuition for each camper they sponsor as part of their commitment to the development of youth in their communities.
Campers who demonstrate aptitude for leadership within the RYLA program can be considered to return the next year's RYLA as "Trailblazers." During the Trailblazer year, participants continue their leadership and personal development as well as having leadership and facilitation roles during RYLA Camp. This is a new level of leadership development introduced for RYLA in 2015.  Trailblazers will attend an expanded RYLA Camp, February 2-5, 2017, with a full day and ½ of training. Trailblazers are generally junior and seniors in high school. Currently each Trailblazer is responsible for their tuition of $300 which covers lodging, food, and supplies for the 4-day leadership camp.
Junior and Senior Counselors for RYLA are selected from previous year counselors and those Trailblazers who demonstrate interest and aptitude to be a leader and mentor for campers. A team of one Senior Counselor and one Junior Counselor co-lead each group of 12-15 campers as they progress through their leadership training activities and projects. Counselor tuition for the 4-day RYLA Camp is covered by the RYLA program making this extended leadership training free to the counselors.
For more information, contact:
Listen to what past students and parents have said about the RYLA Leadership Training Weekend!!
"Words cannot express how thankful I am for having a blessed opportunity…RYLA is more than a camp; it's a life-changing occasion that has truly made me think more about my life." 2014 Senior Counselor
"Going to RYLA gave me the energy I needed to appreciate life and not give up. Two days before (RYLA) I was going through such a hard time…I almost made the stupid mistake of taking my own life…When you stated that we were all there for a reason and it was a blessing, I started to cry…I knew then and there God wanted me here for a reason…RYLA taught me to be a more open person, be happy, better myself, work with others, believe in myself and enjoy the small things in life…I left with the best memories ever… Thank you so much." 2014 Camper
"My daughter Taylor attended your conference this past weekend. Her first comment tome as she got off the bus was, 'That was the greatest experience of my life." Needless to say I was taken aback for a moment.  She mentioned that she had never had opportunities to reflect on the past/present while systematically and purposefully planning for the future. She absolutely loved this retreat. I just wanted to say THANK YOU to you, your staff, and your organization for creating such a meaningful, insightful and focused youth leadership experience."- -Mr. John Gray, Principal, Jo Nelson Middle School, Santa Rosa
All Clubs are encouraged to sponsor high school sophomore and junior students from your local high schools to attend the RYLA weekend! You can allow the school counselors to select the students.  Or you can have the school counselors nominate candidates for your club to interview.  Then you can select the finalists and alternates for these scholarships provided by the clubs. There should be at least one or more alternate(s) selected in case one of the sponsored students cannot attend the weekend. Registration information is required for each student being sponsored for RYLA. Registration deadlines should be noted by all RYLA Coordinators and applicants. There are additional fees for late registration information or payment.
This is the third year for Trailblazers.  Your club has the opportunity to sponsor a returning camper if they have been selected.  The tuition for Trailblazers is $300 for 4-days of RYLA Camp.
Below is a link to the registration forms that need to be completed and by whom. Click on the complete packet to obtain a printable version of the forms contained in each one. http://www.rotarycc.com/youth-service/ryla/ryla-registration-forms/
EARLY REGISTRATION DEADLINE is December 19, 2016. Completed student registration packets are due at the Rotary Club of Corpus Christi office by that date. Late registration fees apply after that date.  PAYMENT must by received by January 9, 2017.  Late fees apply after that date.  Detailed information is on the Frequently Asked Questions form.
SEND COMPLETED PACKETS via:
Scan and email to:  rotarycc@swbell.net
Mail the packet to: Rotary Club of Corpus Christi 921 N. Chaparral, Ste. 210, Corpus Christi, TX 78401
Fax to: 361-888-5579