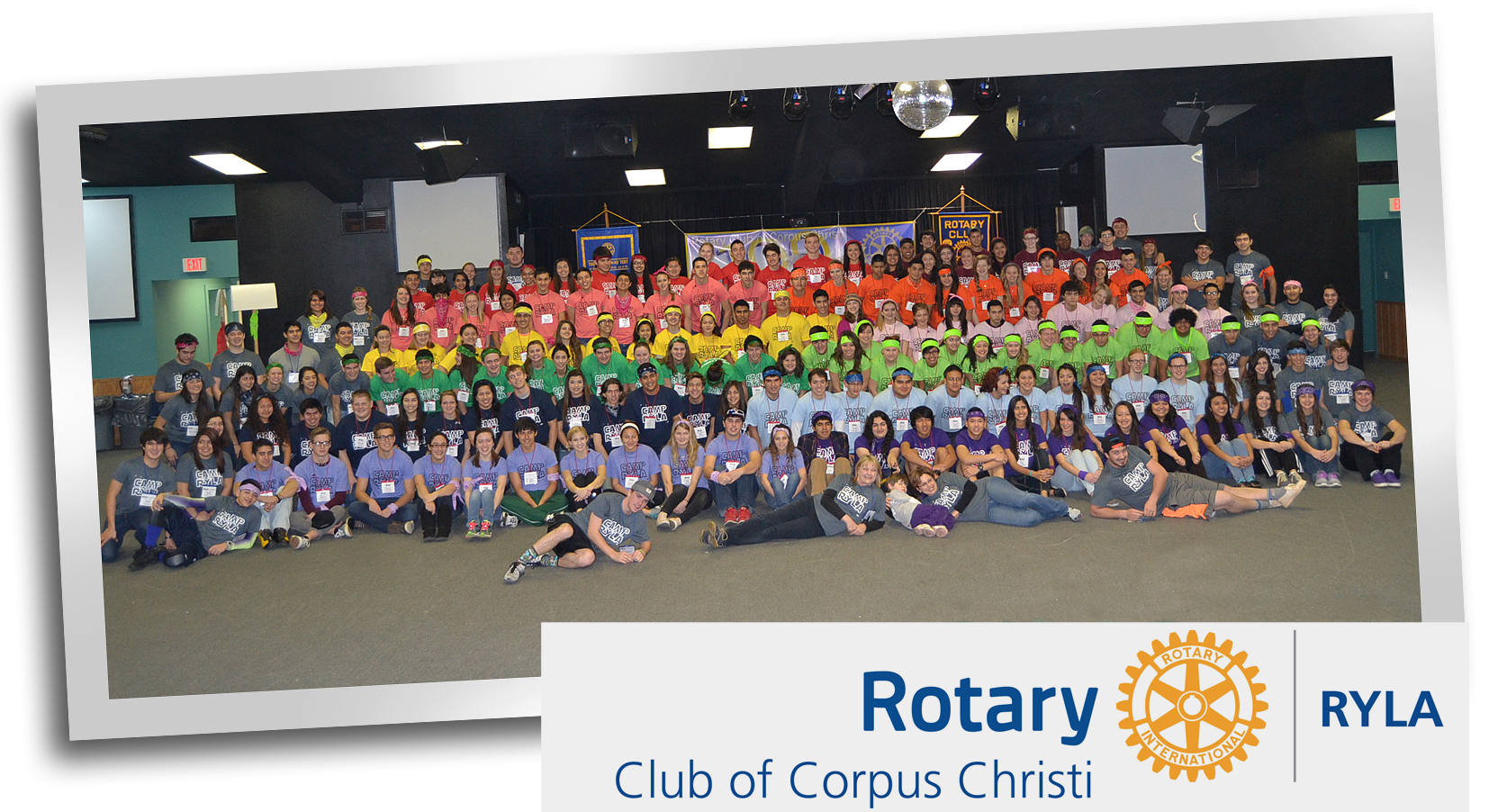 RYLA Information                               RYLA Forms Library
Rotary Youth Leadership Awards (RYLA) is a Rotary International leadership training program for youth or adults. In Corpus Christi, RYLA is a multi-level, 3-day annual leadership camp for youth held each February and organized and hosted by the Rotary Club of Corpus Christi for the Rotary Clubs in the South Texas District 5930.
The RYLA program in Corpus Christi focuses on experiential learning to develop leadership potential within our youth for the benefit of our communities. During RYLA, campers participate in more than 25 hours of hands-on leadership training. The program is a team-based model emphasizing decision making and problem solving. Through different activities campers experience and develop a wide range of leadership skills which are learned by putting them in practice. There are five levels of leadership training in RYLA.   For more detailed information on leadership levels and the RYLA program, see RYLA Camp Overview.
First year attendees are called "Campers" and is open to high school Sophomores and Juniors who show leadership potential. The different Rotary Clubs from throughout South Texas (over 55 Clubs) award full scholarships to selected students sponsored from their area high schools. Each Club will pay $300 per camper to attend the 3-day all-expense paid weekend leadership training as part of their commitment to the development of youth in their communities.
The next RYLA Camp will be February 2-4th , 2018 at Camp Zephyr on Lake Corpus Christi.
To apply for a RYLA scholarship, contact your local Rotary Club at the start of the school year to see if they are participating in RYLA and sponsoring Campers. Or check with your high school counselors to see if they are working with RYLA and the local Rotary Club.  Or contact the Rotary Club of Corpus Christi at:
Rotary Club of Corpus Christi 361-882-8672; or rotarycc@swbell.net ; or text 361-688-1987
TESTIMONIALS
My daughter Taylor attended your conference. Her first comment to me as she got off the bus was, "That was the greatest experience of my life." Needless to say, I was taken aback for a moment. She mentioned to me that she had never had opportunity to reflect on the past/present while systematically and purposefully planning for the future. She absolutely loved this retreat. I just wanted to send a quick note to say "Thank you" to your staff, and your organization for creating such a meaningful, insightful, and focused youth leadership experience." — Mr. John Gray, Principal Joe Nelson Middle School.
I am so grateful to have had this opportunity in my life. After four extraordinary years at this life-changing camp, next year I will not be able to attend as I will be studying abroad with Semester At Sea – a semester-long trip that will take me to 11 countries over four months. I personally don't believe I would have received this leadership-based scholarship without my participation in RYLA. I am just so grateful that I have received these opportunities in life and so thankful for everything you have done to help me through this journey. – 2015 Senior Counselor