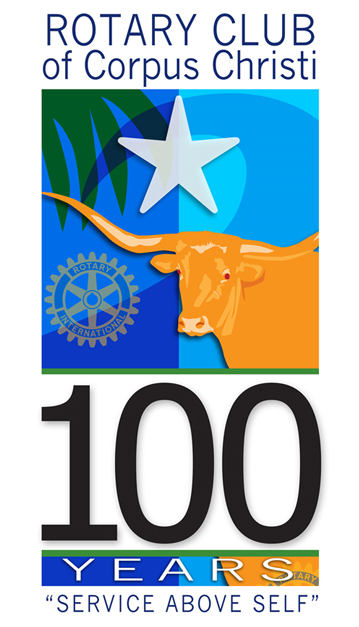 Join Our Club
Since our founding in 1914, the Rotary Club of Corpus Christi has been dedicated to its mission of creating meaningful fellowship of business and professional leaders who are dedicated to making a positive difference in the local, regional, national and international communities through service. As the 125th club to charter, we are one of the oldest clubs in Texas as well as one of the largest with over 250 members.
WHY JOIN ROTARY?
Service – Rotary is the oldest service club in the world with a unified motto: "Service Above Self." Club members have many opportunities for humanitarian service, both locally and internationally. Some of The Rotary Club of Corpus Christi's service events include an Adoption Awareness Picnic, RYLA (Rotary Youth Leadership Awards), Harvey Weil Dinner, Food Bank Project, Beach Clean-Up, Salvation Army Bell Ringing, and many more!
Family – The Rotary Club of Corpus Christi encourages members to bring their family to a wide range of social events and service activity that the club is involved in, creating a "Family of Rotary".
Networking – An original goal of Rotary was to allow club members to meet periodically and enlarge their circle of business and professional acquaintances. Rotarians represent a cross-section of people who make decisions and influence policy in their community.
HOW TO JOIN ROTARY
Prospective members are nominated by a club member or can self-nominate for membership. A membership application form (found at the top of this webpage) should be completed and turned into the Rotary office. The nominee is then scheduled for a one-on-one interview with one of the Rotary Board officers. Upon completion of the interview, approval process, and payment of initiation fee and current dues, the new member is introduced at a regular club meeting.
New members are assigned a Mentor for their first year to introduce them to current membership and assist in identifying the projects and committees that match the new member's interests.
For additional information, email Kellie Shipley, Chair of the Rotary club of Corpus Christi Membership Committee at rotarycc@swbell.net or call the club offices at 361-882-8672.
Important forms:
Please contact the office if you have any questions or need any assistance:
361.882.8672 or lysa@rotarycc.com.
MEMBER TESTIMONIALS