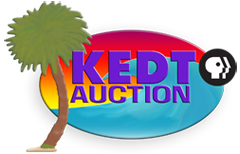 Join fellow Rotarians on a date to be announced at the KEDT TV Studio in Corpus Christi.
KEDT needs at least 20 volunteers to be Bid Takers and Auctioneers. Bid Takers answer phones and take bids from viewers. Bid Takers need to have good hearing, clear writing and attention to detail. Auctioneers are on-camera personalities who read from a prepared script to motivate viewers to call-in and bid on items. Auctioneers need to be able to read fast and speak clearly; a nice smile is a plus! KEDT will provide snacks for the volunteers and plenty of excitement!
KEDT is looking forward to partnering with the Rotary Club of Corpus Christi for a live TV auction. The Auction supports KEDT's quality commercial-free programming. KEDT is our community-owned station. Rotarians can also support KEDT by tuning in each night and bid for items to support the station (and get a great deal!). KEDT hopes to raise more than $200,000 during the auction.
Rotarians and their business can also support KEDT by donating items to the annual auction.
Rotarians Christine Wisnian and Leo Barrera are coordinating our club participation. To participate in this event or for more information, please contact Christine at Christine.Wisnian@lexisnexis.com or Leo at Leo.Barrera@prodigy.com.