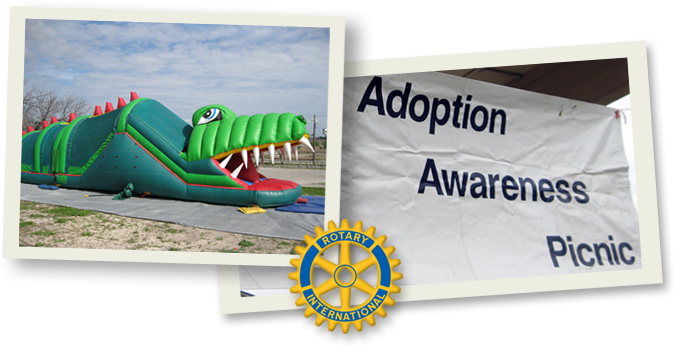 Join fellow Rotarians in supporting Child Protective Services (CPS) by donating items for 100 bags that are given to children during an adoption awareness picnic event in the fall.  Rotarians can donate marketing merchandise such as pencils, notepads, rulers, toothbrushes and toothpaste, and other business giveaways.  These items offset the Foster Parents costs as they care for the children in their care.
All children need a family to love them.  Unfortunately, not all children have that good family environment.  Currently around 14,000 children are available for adoption in CPS' territory from San Antonio to the Valley.  Every year, several Rotary Clubs in our area work together with CPS to help increase awareness about the adoptable children in our area and provide an opportunity for prospective parents and adoptable children to interact.  CPS invites their adoption agencies like Spaulding for Children and Circles of Care to bring the children wanting to be a part of a family to this fun event.  There are games to play, food to eat, and prizes to win!
In recent years, a 17 year old was adopted just before his 18th birthday by one of the parents attending the picnic.  A Rotarian couple who has been helping organize the picnic adopted another older teen as a result of the event.  For some children this event is the light of hope that they need.
Rotarian Andy Crocker is coordinating our club participation.  In addition to donating items, a limited number of volunteers are needed for the picnic from 9:30am-2:00pm.  To participate in this event or for making donations, please contact Andy at crockermoving@sbcglobal.net.