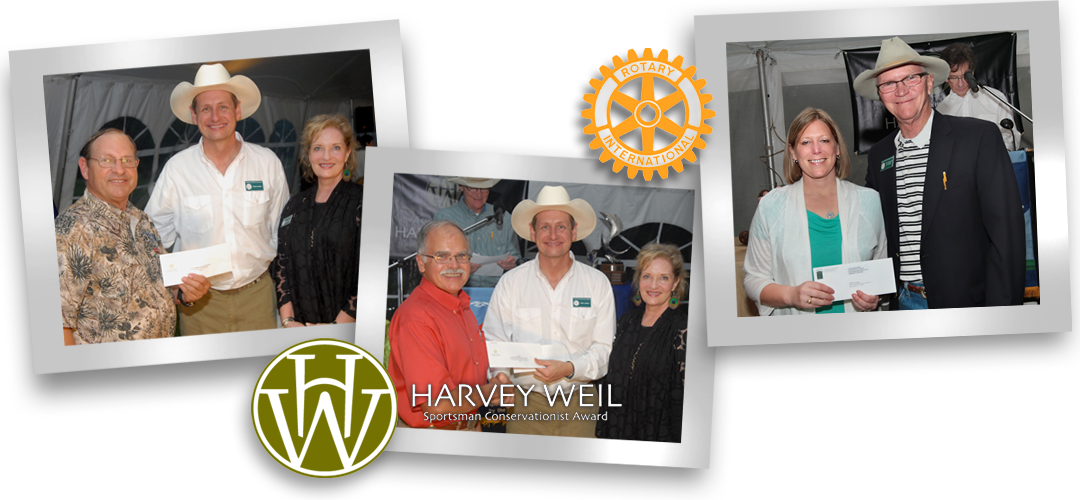 Harvey Weil Grants
The mission of the Harvey Weil Sportsman Conservationist Award is to support research and education in the conservation of natural resources. Priority is given to those projects involving marine and wildlife species and their habitats and to issues in support of recreational hunting and fishing. Since 1998 over $790,000 in grant funds have been awarded.
General Timeline:
Grant application available online August
Grant application due October
Notice of award December
Funding received in the spring time at the Harvey Weil Dinner
Grant report due a year later on June 1st
To determine if you may have a project that may qualify for funding, please look at our Guidelines for Rating Sheet.
Grant Applications & Reports
GRANT APPLICATIONS

2018 Harvey Weil grant applications are due Friday, October 6, 2017 at noon.  All worthwhile projects will be considered, however, this year the committee especially seeks to fund projects involving:
• Invasive grasses effect/impact on native wildlife
• Response of wildlife and restoration to oil and gas activities
• Freshwater inflow needs for estuarine and marine species and habitats
• Sportfish research that seeks to understand and maintain sustainable fisheries
Electronic grant submissions are accepted with the required signatures.
2018 Grant Application
2018 Grant Application (Word version)
Guidelines for Rating Sheet
GRANT REPORTS
The 2016 grant report is due on June 1, 2017. Organizations are not eligible to apply for another grant if their prior grant report is past due.
2016 Grant Report
2016 Grant Report (Word version)
Send your completed application and grant report to:

Lysa Chapman
Rotary Club of Corpus Christi
921 N. Chaparral, Ste. 210 (Note new address effective September 1, 2016)
Corpus Christi, TX 78401
361.882.8672 (O)
361.888.5579 (F)
lysa@rotarycc.com