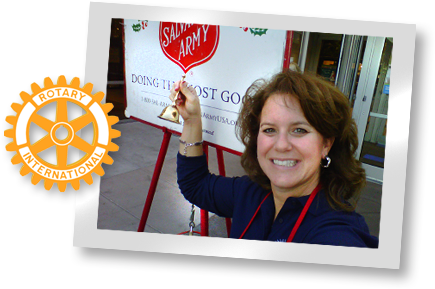 SALVATION ARMY RED KETTLE BELL RINGING:
Join fellow Rotarians as we ring The Salvation Army Red Kettle bells every year on the first Friday in December.
Many families in our community are in financial need. Our club serves our community by volunteering to help The Salvation Army collect funds for the needy at Christmas time. The event takes only one hour of time, one day a year. There are several locations from which to choose.
Rotarian Diane Lowrance is coordinating our club participation. To participate in this event or for more information, please contact Diane 361-886-6900 or email dlowrance@ncmhmr.org.
PLAYGROUND PROJECT:
On Saturday, January 30, 2016 from 9:00 am – 1 pm, our Club will be assisting the Salvation Army in building a playground and landscaping for needy children.  Location will be at the Salvation Army at 521 Josephine Street. CC TX 78401.  Lunch (hamburgers) will be provided.  We will be installing a playground play-set, painting and doing some creative landscaping on the day of.  We will have plenty of projects for the whole family.  Over 100 children walk through our doors every year, this playground is for them! For more information about this project, please contact Rotarian Gustavo Perez at gustatvo.perez@uss.salvationarmy.org.