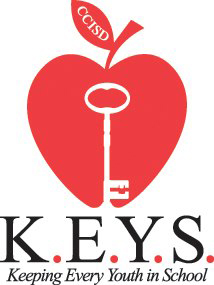 Join fellow Rotarians every Fall for Operation K.E.Y.S. (Keeping Every Youth In School).  Rotarian adult families and friends are encouraged to join us in this great opportunity to demonstrate "Service Above Self."
Operation K.E.Y.S is a community walk aimed at encouraging students to return to school.  We are proud to assist in this initiative that is a partnership between the Corpus Christi Independent School District (CCISD), the Diocese of Corpus Christi and the City of Corpus Christi.  The event will target students who did not re-enroll and to encourage them to return to school to complete their education.  In the past six years, over 800 students have returned and over 100 have graduated or earned a GED. The event will pair one Rotarian volunteer with a CCISD employee to make home visits to students who did not enroll for the designated school year.
Instead of home visits, Rotarians can also volunteer on campus the morning of the event.  Campus duties may include handing out team bags, t-shirts, and snacks as well as distributing volunteer certificates to all volunteers, signing volunteers in on arrival, etc.
Rotarian Emily Longueira is coordinating our club participation.  For more information, please contact Emily Longueira at emilylongueira@hotmail.com with the following information: Name, mailing address, email address, cell number, office or home number, and whether you want to volunteer for home visits or campus work.