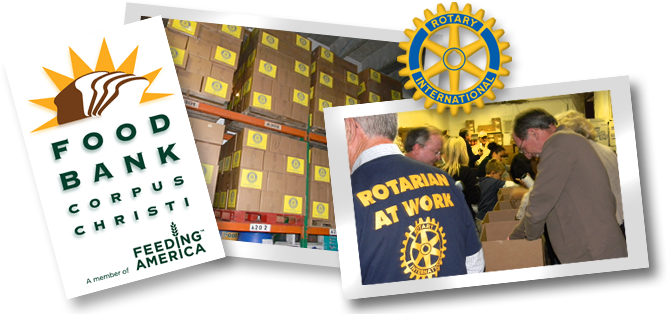 Join fellow Rotarians at the Food Bank of Corpus Christi (826 Krill St, Corpus Christi, TX 78408) every year in the Fall for our annual Food Bank project.  Rotarians and their families are encouraged to join us in this fun opportunity to demonstrate "Service Above Self."  After some hard work we will be sharing a great meal together in fellowship.
The Food Bank of Corpus Christi has received over 2,500 orders for boxes for a holiday meal. Our club will help box 1,000 of those orders that will be distributed to those in need.
The boxes will include items like a frozen turkey, canned goods (like corn or green beans), and dry goods (like rice or dressing mix)-items to help make a wonderful holiday meal.
The Food Bank of Corpus Christi services 11 countries in our area. Almost 12,000 people eat food each week that is provided by the Food Bank from one their 87 pantries or 15 mobile pantries, senior centers, day care centers, or another one of their programs.
Rotarian Bea Hanson, CEO of the Food Bank of Corpus Christi, is coordinating the event.  For more information contact Bea at Bhanson@feedingamerica.org.