DISTRICT 5930
CLUB 2062
125th Club Established
Chartered 1914
The Rotary Club of Corpus Christi meets every Thursday at 12:10 PM at the Solomon P. Ortiz Center,
located at 402 Harbor Drive Corpus Christi, TX 78401.
Solomon P. Ortiz Center
Lunch Begins at 11:45 AM
Meeting Starts at 12:10 PM
$19 Lunch/$5 Non-Eaters
Meetings are closed to the general public and are for Rotarians and their guests only. The membership of over 2650 continues to represent the most outstanding leaders in the civic, religious, and vocational organizations of Corpus Christi. Every week it continues to be a key source of information on the city's economy, development, and the concerns of the citizens.
Rotary Club of Corpus Christi has spread the precepts through the area.  There are currently six (6) other clubs in the area:
Corpus Christi Northwest, Corpus Christi Southside, Corpus Christi Evening, Corpus Christi West, and Corpus Christi Sunrise, and Padre Island.
Where to Make-Up Missed Meetings:
All clubs meet at noon unless otherwise indicated
Monday
A.P. Bakery Café—Aransas Pass
Tuesday
North Shore CC—Portland
Island Architects —Padre Island
Wednesday
CC Country Club —CC Southside
Miller's BBQ – CC Northwest
Alice Country Club—Alice
Thursday
7:00 am Shoreline Sandwich (Plains Capital Bldg) – CC Sunrise
Pelican's Landing Rest.—Port A
5:30 pm Joe's Crab Shack—CC Evening
Friday
Citrus Bistro—CC West
Online
www.rotaryeclubone.org
Mission Statement
"We are business and community leaders dedicated to making a positive difference through service."
The Four-Way Test
In 1932, Rotarian Herbert J. Taylor created The Four-Way Test. It is a nonpartisan and nonsectarian ethical guide for Rotarians to use for their personal and professional relationships. The test, which has been translated into more than 100 languages, asks the following questions and is recited at club meetings: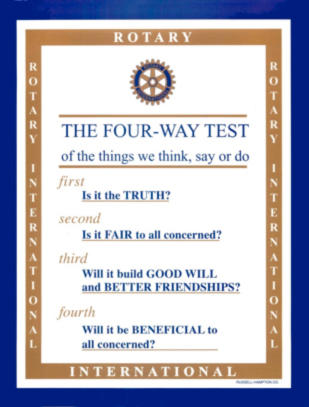 ROTARY MOTTOS
Service Above Self
They Profit Most Who Serve Best
Lysa Chapman is our club's Executive Director.
If you would like become a member, please contact her at lysa@rotarycc.com or 361.882.8672.